Paul Vernon Chester
Your site is refreshingly vibrant. The Gypsy Jazz area is developing strongly and I will post you articles when completed to add. I can see this site being an impressively strong alternative to existing ones, particularly with material on guitars, playing etc, if that's the way you envisage it developing. You have my support! All the best Eddie, - Paul.Vernon Chester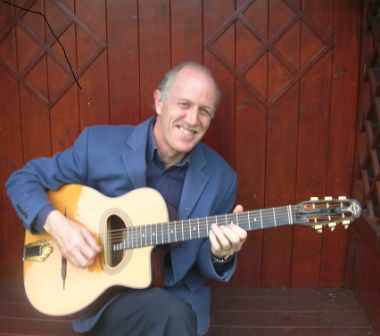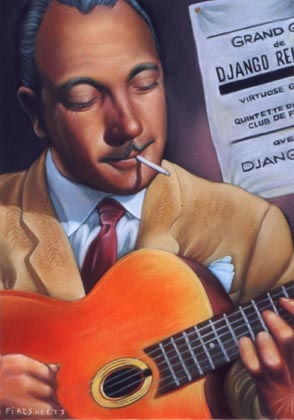 Paul Vernon Chester
One of the UK's and the world's finest Gypsy Jazz guitarists, Paul's playing and compositions are rapidly bringing him to the forefront of the jazz guitar scene. His playing , in the Django tradition, is warm open hearted and high octane!

Regularly appearing on the same stage as many of big names of the genre, Paul's work has been broadcast both in the UK and abroad.

His compositions once heard are rarely forgotten.

'Hauntingly beautiful' and 'infectious' are both accurate descriptions that have been applied to Paul's music, as proven in many performances that have earned him huge respect from audiences and artists alike. He is internationally respected and has shared stages with some of the world's finest Gypsy Jazz musicians. Described by one hardened Gypsy Jazz fan as "scarily good" he not only plays with great technical finesse but, most importantly, with enormous charm and soul. He is supported by his cousin and long time accompanist, the superb rhythm guitarist, Nick Mellor.

Paul endorses Manouche Guitars

Paul Vernon Chester Video

Paul Vernon Chester Video - 2 (Autumn leaves)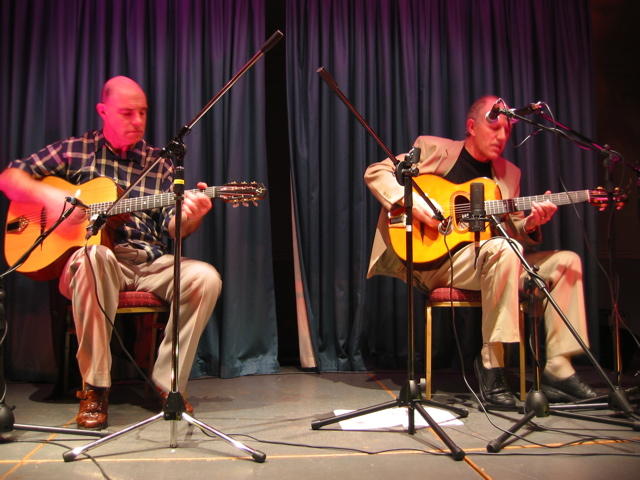 Paul and his cousin, rhythm guitarist NICK MELLOR have been playing together since they were kids-and their rapport is clearly apparent in their performances.
Paul in Action @ Concert Jazz Thame - 14/03/07
Nick in Action @ Concert jazz Thame - 14/03/07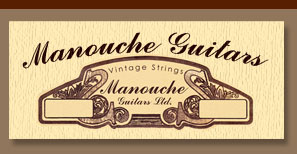 Manouche Guitars / Vintage Strings,
88 London Road,
Cheltenham,
Gloucestershire,
GL52 6EH. Tel: +44(0)1242 515949 Fax: +44(0) 01242 515949
Map: Click here
Email: Sales, Tony Walker, John Vickers
- Manouche guitars have really impressed me, as has the expertise of John and Tony who really know there stuff down there in Cheltenham. These guitars are really taking off and sound lovely. - Paul Vernon Chester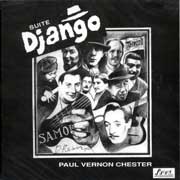 'Paul Vernon Chester - Suite Django -
Musical Impressions of events in the life of Django Reinhardt
All original tracks written and performed by Paul Vernon Chester, accompanied by Ian Cruickshank on rhythm and Andy Crowdy on bass and percussion.
Track Listing:
Naissence
Valse des Enfants
Flame of Destiny
Redemption
Nin Nin
Broad Brimmed Hat
Baro and Matelo
Hotel Claridge
Selmer Swing
American Dream
Naguine's Tears

if you wish to order copies of any of thise CDs Click Here
---
Duets for Django Live @ Concert Jazz CD Release
The Live Album Released 6th June 07 - CD Day
'Duets for Django' recorded at Live @ Concert Jazz Thame on 14/03/07 (Paul's Birthday)
This celebration may account for the Manouche Magic captured by Jake Kirkpatrick
Just to let you know how delighted we are with the final product. As anticipated the recording quality is top notch and the packaging looks great. Love the colour scheme. Nick's guitar works well for the tweaked volume. Notwithstanding the CD works really well. Many thanks for your hard work Jake and I feel we have a recording that truly reflects our performance ideals. It's only when you hear the audience at the end of each track you realise this is a live recording! I feel the same tension that I felt at the gig!
Very well done mate, you know your stuff. - Paul Vernon Chester.
This gives a great insight to Paul's compositions, faultless technique and ability to improvise inventively on a chord structure.
The listening audience were so enraptured that their presence is only apparent in the enthusiastic applause at the end of each number.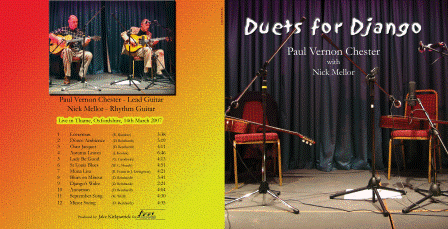 Track Listings are
Loverman
Douce Ambience
Chez Jacquet
Autumn Leaves
Lady Be Good
St Louis Blues
Mona Lisa
Blues en Mineur
Django's Waltz
Anouman
September Song
Minor Swing