Diz Disley - Stephane & Django's Renaissance Man
Sadly Diz Disley Passed away on Monday 22nd March 2010 but you don't have to believe it if you don't want to.
Think of it as a Reunion with the Master -
His funeral will be held on Wednesday, 7th April at 3pm at The West Chapel, West London Crematorium at Kensal Green, Harrow Road, London W10 4RA. If you wish to attend please arrive at 2.45pm to process behind the marching band. Sadly, Diz was destitute and funds are needed for a fitting send off. If you feel you would like to make a contribution, please make your cheque payable to DIZAID and send it to me at 5 Dronfield Road, Stoke, Coventry, CV2 4BZ. The DizAid Concert mentioned below is still going ahead. Very many thanks, Swarb x"
DizAid Concert
The band 'Shagpile' with Dave Burland are putting on a DizAid benefit gig at Rob Shaw's club, The Rock at Maltby. All proceeds will go to Diz. If you want to spread the word, it's on Saturday, April 10th and Roy Machin is doing support. See www.therock.org.uk for details.
---
I knew that he'd been ill for some time. It would be nice to invite eulogies on the website. So many were affected by him.
I remember fondly playing Nuages on his Selmer Maccaferri when I was 17. He accompanied me on a flat top, lent by an audience member. He was always supportive and encouraging and beneath that legendary wit lay a musician of calibre who loved his swing jazz and played the most tasteful chord progressions with rock-steady precision. He played a lot of folk clubs where at some point Django would always take over almost seamlessly! I can only imagine what fanfare Django and Stephane are playing for him but they will all be jamming for a long, long time!
Paul Vernon Chester.
I was 12 when I first met Diz. It was the early 1950s and my father, Tom Cundall, was co-editing Jazz Journal with Sinclair Trail. This was an early example for me of why not to get involved in Jazz as it involved trips to a pawnbroker's in Kilburn High Road to raise the money to pay the printers bill. Diz stayed at our home a few times, doing artworks for Jazz Journal. He also had a guitar and a trumpet and I had a ukulele. He taught me a couple of what might just about have been approximations of chords and so I had the rare honour of backing Diz while he was on trumpet and I was still in short trousers - until my father said we were upsetting the landlady, a hanging offence at the time. Diz always seemed larger than life to me, clearly enormously talented, always cheerful – although I have never forgotten one horror story he told me from his time in the army in Trieste. I last saw him about 15 years ago, playing with Digby Fairweather at the Pizza Express in Dean St. He instantly called up memories from when he used to stay with us and told me he now had some land in Almeira which he hoped to get permission to turn into a golf course. So I was very surprised to learn he was broke when he died. - Peter Cundall
What a fellow Diz was. I used to run Folk Ckubs in the sixties and early 70s around Northampton. One time I remember him turning up in a Rolls Royce which did not have a steering wheel but some sort of joy stick to steer it by. He enjoyed giving me a ride and showing it off. He is the only person who ever asked me if I took any money for myself form the folk club admission charge. When I told him no he gave me a couple of quid. He would get paid about £10 for his guest spot. Mind you I was earning about £12 a week as a teacher. On a couple of occasions with his £10 fee he took himself, me and 2 others for an Indian meal and still had change. He was one of life's greats and I'm sorry now I did not keep in touch when I stopped running clubs. Wilfrid Feely
---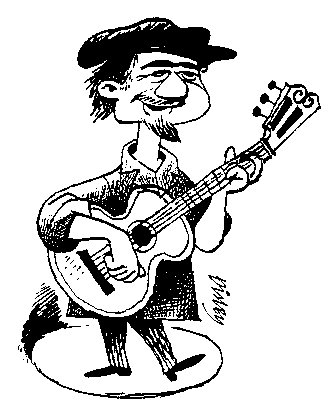 Diz Disley

was born in
Winnipeg
,
Manitoba
,
Canada
but was brought up in
Wales
and Northern
England
. In his childhood, he learnt to play the
banjo
, but took up the jazz guitar at the age of 14, after hearing the playing of Django Reinhardt
. Diz studied art in Leeds and it was a good time for music at the Leeds College of Art. There was Diz, Alan Cooper who later formed the Temperance 7, & from quite a different scene a lad called Frank Abelson who later became Frankie Vaughn. Diz played banjo in the college band - the Vernon Street ramblers - when he was asked to join the slightly more prestigious Yorkshire Jazz band, which brought him to London & the Mick Mulligan/George Melly rave-ups.
In those days the band was playing for £4.50 a week. But they didn't even consider the money, it was a pleasure to be playing Jazz in London. Melody Maker voted Diz Jazz Guitarist of the Year for a number of years. Diz has played with & continues to play with some of the great names in Jazz - Big Bill Broonzy, Louis Armstrong, Ken Colyer, Sandy Brown, Cy Laurie, Kenny Ball & Alex Welsh among others. Diz led his own quintet at the BBC & compered various folk & jazz programmes for years.

It was while organising the Cambridge Folk Festivals in the early 70's that Diz invited Stephane Grappelli to make an appearance. Steph had not played his style of Jazz since Django died in 1953 - mainly because he couldn't find reliable acoustic guitar players. The best guitar players to suit his style of Violin Jazz were all gypsies - and reliability was a problem. It was for that reason that Steph had stepped out of the limelight for almost 20 years, before meeting with Diz. Stephane wanted a pianist to accompany him at the Cambridge Folk Festival, but Diz couldn't get the piano across the field to the stage, so he suggested that he & Denny Wright accompany the legendary Stephane Grappelli. It was an outstanding success. When Diz formed the Diz Disley Trio with Ike Isaacs, Steph was asked to lead the band on a short tour.
Musical Career Highlights.
Yorkshire Jazz Band 1949. Mick Mulligan Jazz Band 1953. Ken Colyer Jazz Band 1954. Cy Laurie Jazz Band 1955. Diz Disley String Quintette 1956. Sandy Brown Band 1956. Bob Cort Skiffle Group 1957. Nancy Whiskey Group 1958. Kenny Ball Jazzmen 1959. Alex Welsh Band 1960. BBC Radio Bandleader & Compere 1956-1963. Folk Clubs & Festivals 1963-73. S. Grappelli & Diz Disley Trio 1973-83. Artist: Melody Maker, Radio Times, The Spectator, Jazz Journal, Daily Mirror, record companies, advertising etc. Actor : (Hollywood LA), Heliotrope Theatre, Mark Taper Theatre. Has recorded 13 albums with Stephane Grappelli 1973-83. One album Soho String Quintet 1959 on Lansdowne label.

Nils Solberg - For some fine vintage videos of the Diz Dizley's Soho Quintet
Diz, Jeff Green and Nils Solberg on guitars, Dave Etheridge on bass and Johnny van Derrick on violin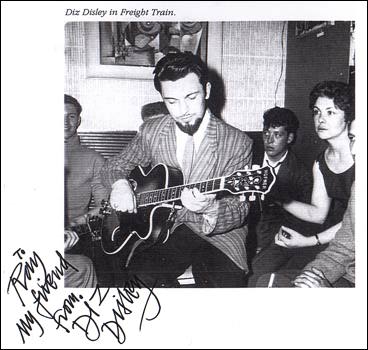 Diz Attends a Local Gypsy Jazz Gig:-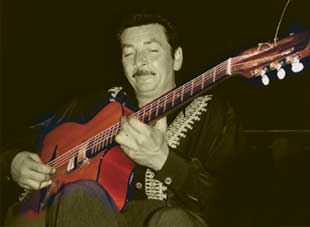 Took Place on 20th Oct 2007
Woodcote Village Hall,
Reading Road 01491 681391
Mito & Fleco Loeffler + Gypsy Jazz - Ian Cruickshank, John Coverdale
Genuine Alsace Gypsy guitarists from the French / Belgian Manouche Gypsy Tribe, Mito & Fleco are highly respected guitarists, in the Django Reinhardt vein Mito Loeffler and his musical family live in a caravan in Alsace, speaks only Romany and some bad French and lives and breathes Manouche music of all lands from traditional waltzes to gypsy jazz. Gypsies begin to play as soon as they can hold a guitar. Mito's playing was charming, honest, bewitching, utterly entrancing.
The mature but ever enthusiastic Diz Disley attended the concert and sat quietly and appreciatively nodding and voicing his approval of the Manouche tradition that influenced his own musical contribution in perpetuating the magic of Django's Legacy. The band paid him due tribute for his supreme presence..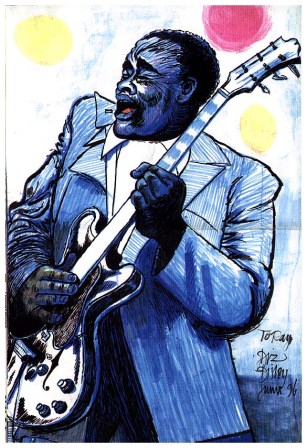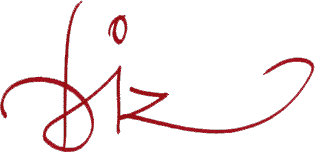 After leaving the English military service in the 1950's, William "Diz" Disley enrolled in art school and became a skilled illustrator and painter, eventually doing covers and cartoons for the weekly magazine Melody Maker and the political journal The Spectator.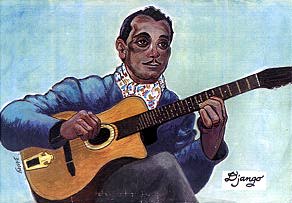 Music entered his life some years earlier when he became a fan of jazz guitar playing in the style of Django Reinhardt and his group The Hot Club of France which featured Stephan Grappelli on violin. He mastered the guitar and before long Diz was on his way up in the world of jazz music. After joining Tony Crombie's outfit (Britain's first rock and roll band) in 1958, Diz performed with Acker Bilk (Stranger on the Shore), Humphrey Lyttelton, Beryl Bryden and others who would gain success on record like Chas McDevitt, Ken Colyer, Nancy Whiskey and Lonnie Donegan. Eventually he formed his Diz Disley Trio and made contact with Stephan Grapelli whose music career had stalled and was playing piano in a hotel bar in Paris. Through Diz's connections with the British festival circuit he revived the violinist's career during the 1970's world-wide. On this day in 1963 the guitarist, artist, had been given the honour of hosting a popular jazz radio program for BBC before a live audience.
If any one wishes to add to this assembly of information i would be glad to expand it ....Jazz Eddie
Diz Today!
- in his maturity he can still be seen mingling with fellow Manoucheries at various live concerts given by those that have followed his creed. He sits entranced by the passion and intricate skills of the new generations that seek to emulate the master. He can be heard sighing in delight and satisfaction that he was a torch bearer in his time and kept the Django Legacy alive and thus restoring its glory to ears of rising generations of Listeners and Players alike. He graciously takes a bow each time from the appreciative audiences that recognise this gargantuan effort to keep this music alive and vibrant - and what success he achieved!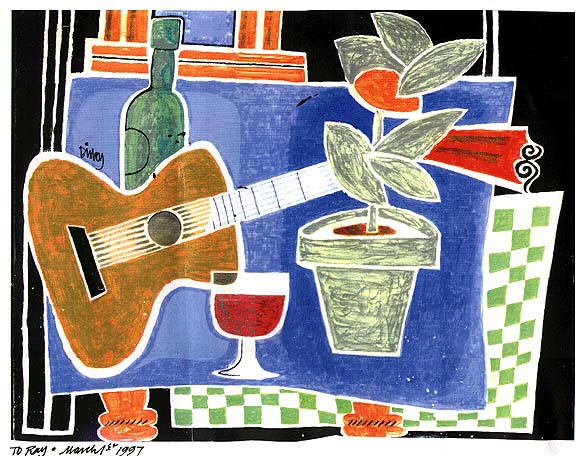 ---
Additions to the Appraisal.
ENCOUNTERS
Diz is still with us, and I make a point of checking up on him every week. I have known Diz since the fifties, and shared a pad with him for a short time in the 60's whole we were both doing the folk scene.
I also helped produce his last Jazz CD which was a compilation of music from a concert he did in the Midlands in 1974. I still have the original studio tracks, he sold the rights but I don't think it was ever released. I also made a folk album with him and Johnny Silvo called ''Blues in the Backyard'' which is available from Lakeside records.
-
E Van Johnson
I met Diz about 40 years ago in Stafford where he used to visit sometimes at the height of the folk club era. He would entertain us with humorous ditties and sometimes we would have a meal in the local Chinese restaurant. It was at one of these meals that he had us all in stitches ,relating his hilarious exploits on his way to entertain the troops in Malaya I think it was. One day he turned up at my mothers house ,where I lived and cadged some money for petrol . He was off to a gig in Manchester when his Rolls Royce ran out of gas ! True to his word the small loan was repaid. On another occasion he was on his way to Immingham with a load of disco equipment bound for Sweden when his car broke down . The gear was stored in our garden shed until he collected it some time later. I later heard the Swedish disco venture ended rather ignominiously, but I'll leave the details to Diz!
I met him again some years later at the Cambridge Folk Festival and he introduced me to Stefane Grappelli . A memorable moment, Stefan played for us in the tea tent, we were awestruck that such an eminent musician should ask us what we would like him to play ,when he should have been relaxing between spots .
Two of life's real gentlemen . I salute you! Pete Richardson Stafford
There are other anecdotes about Diz I could relate but the person who knew him best was Ron Winkle, local banjo player and vintage car restorer. Diz commissioned Ron to paint his Rolls Royce yellow once I believe ! This was typical of Diz who had a rather cavalier attitude to his own personal road transport. I remember he had a large heavy saloon which would not go in reverse so any trip had to be accompanied by helpers who pushed when required . Ron told me that Diz parked this unwieldy vehicle in the Lord Mayors parking spot in Birmingham once when attending a gig.I can only imagine the kerfuffle that probably ensued !
Diz was unfailingly courteous in all the dealings he had with me and his memory was and probably still is prodigious . He never forgot my mother and sister ,and would enquire of their welfare ,despite the passage of many years and the fact that he only met them once.
Our association was very brief but I often think of the humour and fun he brought into our lives. I'd love to drop him a line but don't have his address . One little anecdote that I never forgot was when I asked Diz how he kept so fit and slim . His reply was "It all goes in through the mouth son " Pete Richardson Stafford
An old friend of mine who is now in his early nineties and who's name is Norrie Greenwood claimed to know Diz Disley in his very early days. Norrie often recounted the story of how he was playing his guitar in his house in Settle, Ribblesdale when the postman rang the door bell and asked what kind of music Norrie was playing. Norrie went on to give the postman a few lessons but was soon outclassed by him. The postman turned out to be Diz. Norrie would tell this story to anybody who would listen and most of us in the local jazz scene took it with a pinch of salt. That was until all the local players including Norrie went to see Stephane G. with Disley at the Annersley Hotel in Lincoln. When Disley saw Norrie he was said to be over the moon and insisted that he went back stage to meet Stephane. I don't think Norrie, after shaking hands with Stephane, has washed his hand since! Nobody knows if the story was correct but Diz's reaction on seeing Norrie would lend some credence to the tale. - Best Wishes - Alan Davies - Lincoln
I also know Norrie Greenwood and a few years ago met Diz Disley who was on his way to play a concert in Lancaster. He called in on Norrie at Hellifield, where Norrie was living at the time and played along with us .well I say along he was stunning .the evening is on a video the fiddle player's wife made.. He didn't tell me Diz was coming he just said there was a special friend coming to the practice session ...special indeed...Diz confirmed the postman story by the way....Doug Lawrence
Hi, ref Diz Disley. I used to see him at the Surbiton (Surrey) folk club quite often. He would sing gently ribald songs and play a lovely old Maccaferri type guitar. He can't be that old now - why doesn't he ever perform? Anyway, he made me fall in love with that type of guitar and it's music. So I wish him many thanks. All the best Nick Weeks
I'm back-tracking to 1964/65 when I was also part of the Surbiton folk club audience. At that stage Diz always included one or two George Formby impersonations in his folk club performances and this led to the production of an LP featuring George's songs. A number of recruits from the Surbiton audience attended the recording studio to provide choral backup and applause (myself included). Diz designed the record cover which featured a cartoon of George Formby sitting astride a huge stick of Blackpool rock, with the title "EEE, What a Whopper". The record was a tribute to George Formby who had died in 1961 - though the rather risque cover meant it wasn't a record for taking home to mother at that time! I recall Diz had great respect for the accomplishments of former generations, whether the subject be music, musicians, flying machines or cars. He heard about a 1926 Rolls Royce that someone was trying to sell. It wasn't going but he was excited at the prospect of working on it and I lent him the £15 needed to buy it. He got it going and I later had some rides - feeling very high and mighty, sitting way above mere mortals in the 1960s London traffic. Best wishes to the very able star of this show. - Linda Muldoon (in Canberra)
When I lived in Corby, I remember Diz Disley was booked to play at the Nag's Head in the old village, having played there myself on a few occasions, I asked him if I could sit in. Diz , at the time was doing his solo folk club thing but called me on during the second set.
It must have gone ok as he invited me to his next gig in Market Harboro', I turned up feeling quite nervous, however I felt a lot worse after the interval when he announced me as "boy wonder"!! after the first number I got up to go and he told me in no uncertain terms to "sit down" so I ended up doing all the second set with him, he then invited me to do a concert with him on the following Saturday in Leicester.
At the time I was a member of quite a successful local band called "The Midnighters" run by two brothers, Pat and John Casey, and I had a gig with them on the same night so I had to decline his offer, Diz was not the type to accept such a futile excuse so I remember him saying to me "this is not a pub gig dear boy, it's a Concert in a Theatre, it's your big chance" sadly it was a chance I missed, as much as I wanted to do it I felt I had to honour the first gig with the boys.
When he was in the area Diz called on me a few times after that, he had a big influence on my playing and certainly kept you on your toes, - playing with Diz was a great experience. - Ade Holland Jazz Guitarist
I first met Diz in the late 60s/early 70s at a Bayswater pub called "The Redan" on the corner of Queensway and Westbourne Grove in London. I was playing jug band music and early 20s jazz with a loose collection of musicians called "The Egbert Souse All-Stars". The pub landlord was an ex-muso called Johnny Watkins, and Diz was his tenant in the upstairs flat. Johnny had all kinds of jazz-based music going on – I recall Sunday lunchtime sessions with Frank and Laurie Denise, for example, and the "Egberts" played once a week. We weren't particularly accomplished musicians, but we played with enthusiasm and gave a good performance for £2 each and a free beer! The band members would come – or not – as the mood took them and, one particularly sparse night, there were only 3 or 4 of us playing. Diz came downstairs for a pint, saw us struggling, and went upstairs for his Maccaferri. He jammed with us all night and turned it into a wonderful evening. When we'd finished, I asked if he would take a share of the kitty. He said "no", he had a good gig the next evening. When asked where, he said "Carnegie Hall – with Stephane". I last saw him when I was playing at a folk club in Arundel called "The Willows". I turned up to watch. He saw me in the audience and asked me to come up and play "backing" guitar for him – which turned out as me taking as many solos as he did! He drove a huge hearse in those days, and wondered where he could fill up before going back to London. I've not heard of Diz for years –hope he's OK - Mike Ainscough
Hi - I served with him in Trieste in 1940 and was in touch till nearly 1950. Diz gave us all instruments - spoons, comb and paper, harmonicas, and wash boards. We ran Music sessions in the various Barrack rooms. - Lionel Morgan ex Sgt - Royal Signals